Your Dental Writer
If you need content for your dental website, you've come to the right place. You can purchase a la carte content from our content website at contentdentist.com, or you can hire Dr. David Wank for custom dental content writing.
Why Purchase Content from ContentDentist.com?
At ContentDentist.com we offer 30+ pages of dental content available for purchase so you can fill-in any missing content gaps on your website, or supplement and enhance your website's existing content. We offer SEO-optimized content for service pages such as dentures, crowns, veneers, and wisdom teeth along with blog posts such as "What are the Risks of Teeth Whitening". You can visit ContentDentist at https://www.contentdentist.com.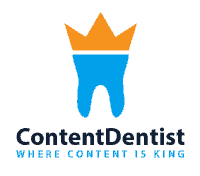 Work with Dr. David Wank Directly for Custom Content
As a practicing general dentist and the owner of Short Hills Design, Dr. David Wank is one of the few people in the world who possess this combination of knowledge and experience. With a BA in English Literature from Tufts and a DMD from Harvard, Dr. Wank can team up with you to produce informative, compelling, and accurate content to help drive visitors to your website and convert more new patients.
Why Bother Adding Content in the First Place?
Search Engines such as Google are services that organize and categorize the content on the web. When someone performs a search using Google, Google aims to provide the user with the most relevant and high-quality content related to the query. Thus, Google needs to know what content exists and needs determine the quality of the content it finds. Remember, if Google provided search results that aren't relevant or are of poor quality, people will stop using Google for their web searching needs.
As you might imagine, if you don't have content for a particular search query, then it's very unlikely that your website will come up in the list for that search. For example, if you fabricate incredibly lifelike porcelain veneers for your patients and you want more veneer patients, Google and other search engines won't know about your talent unless you have a dedicated page about veneers.
So the first rule of thumb when it comes to content for your dental website is to have a dedicated page on your site about each service you'd like to rank for on the web. These pages should contain content that's well-organized and easy to understand, along with images or pictures if possible (don't show photos of actual clinical procedures - share illustrations, graphics, or before and after results).
What Type of Content Should I Write?
In addition to having content for all of your relevant service pages, it makes sense to have blog posts for your "discussion-type" content. Dr. Wank categorizes "discussion-type content" as content that's based upon the clinical conversations you have over and over again with you patients about subjects such as bridges vs. implants, root canals vs. extractions, and veneers vs. orthodontics. These blog posts are fantastic for driving people to your website because the content is easy for you to write as it's basically written for you, and these topics attract people who are in the consideration or decision stage of the buying process.
Whether you choose to write content on your own, purchase it from ContentDentist.com, or hire Dr. Wank to write custom content for you, the sooner you start adding informative, quality content to your website, the sooner you'll get the attention of search engines and potential new patients.