Self-Paced DIY SEO Training
We're thrilled to announce that our Do-It-Yourself SEO course is now available on our Podia portal and is 100% free. We spent hours trying to find a great home for our course that was easy for us to manage, and for you learn, and we're pretty confident that we've achieved both goals.
"Can I Learn My Own SEO?"
Absolutely! You can and you should try to have a basic understanding of SEO. One of the popular ways people use our course is by just watching the videos and not doing the actual training steps. If you take this approach to learning with us then you'll have the background vocabulary and knowledge from 10,000 feet to be able to have a productive conversation with any SEO company you hire in the future.
This experience is for people who:
Want to learn SEO on their own to improve their marketability and job prospects
Get an overview of the SEO process so they understand what their SEO company is talking about!
Want to learn SEO with an expert and get help along the way
We Go on an SEO Journey Together
The best part about our course (other than the fact that it's free and it's loaded with valuable information) is that we take you on a step-by-step journey from the beginning to the end, where each lesson builds upon what you've learned in the previous lesson. The diagram below shows you the path you will take in our SEO journey.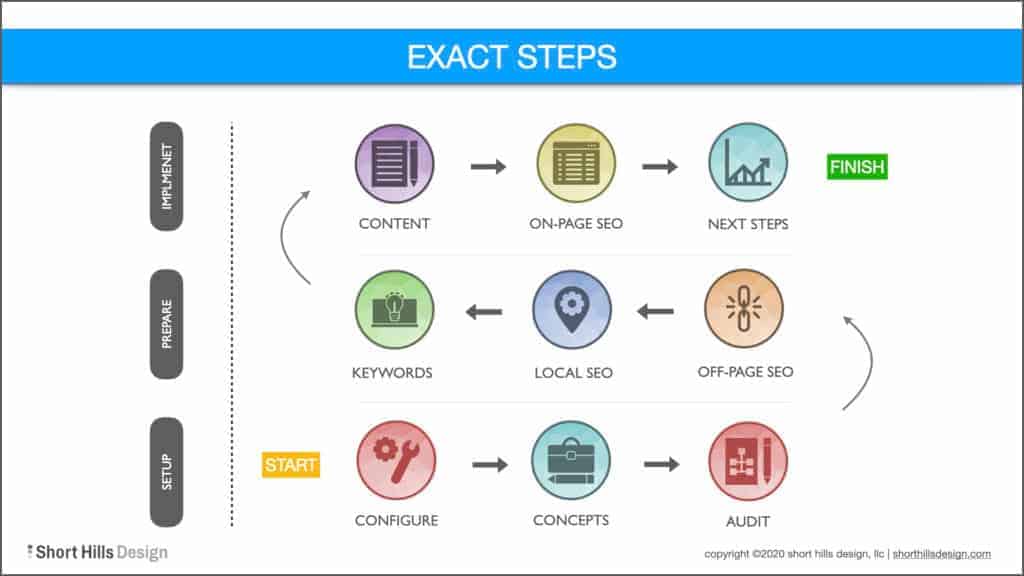 What You Will Learn:
Module 1: Configure - Learn the basic SEO vocabulary and get setup with Google.

​Module 2: Core Concepts - An in-depth look at organic SEO concepts and ranking factors.

​Module 3: Audit - Learn how to make sure your website is Google-ready and in the best position for SEO success. We'll use SEMRush's site audit tools to review how to run an audit and how to determine which of the audit findings you need to fix, and which can be left alone or left for later.

​Module 4: Off-Page/Off-Site SEO - Review the other factors that affect page rankings including link building, domain name age and similar factors. Remember, the easiest links to get are the so-called "low-hanging fruit" from local organizations such as the Chamber of Commerce and any professional or business organizations you may belong to.

​Module 5: Local SEO - Review NAP (name, address, phone number) and get your citations consistent for Google Maps. Google My Business is more critical now than it was when we originally gave this course. Be sure to spend time focusing on your GMB listing and posting weekly on GMB.

Module 6: Keyword Research- Learn how to brainstorm, research, and select the best available keywords for your website. While we now offer SEO sprints as a way to focus down even further on content, you need to be able to see what keywords are worth ranking for and which keywords are a waste of time. Just because you think you know what people are searching for, you shouldn't spend time and effort building around these keyword/s unless you know there's actual search volume.

​Module 7: Content - Learn how to write SEO-ready content. The greatest content in the world can fall flat on its face if it's not structured in a way that's friendly to your visitors -- and to Google. Learn why you need to have proper heading tags and how to properly place them in your content.

​Module 8: On-Page SEO - Combine keyword research and content and implement SEO on your web pages.

​Module 9: Next Steps - learn how to monitor your campaign's success and make tweaks as needed.
What You Will Get:
We'll teach you how to UNDERSTAND SEO
​We'll teach you how to BUILD, IMPLEMENT and TRACK your OWN SEO campaign
​Hours and hours of on-demand SEO training
Access to all of our step-by-step worksheets
Unfortunately the coaching and Facebook group that we offered with the original course group is no longer available. If you'd like to learn more about our SEO services you can send us a contact request.
Screenshots from the course: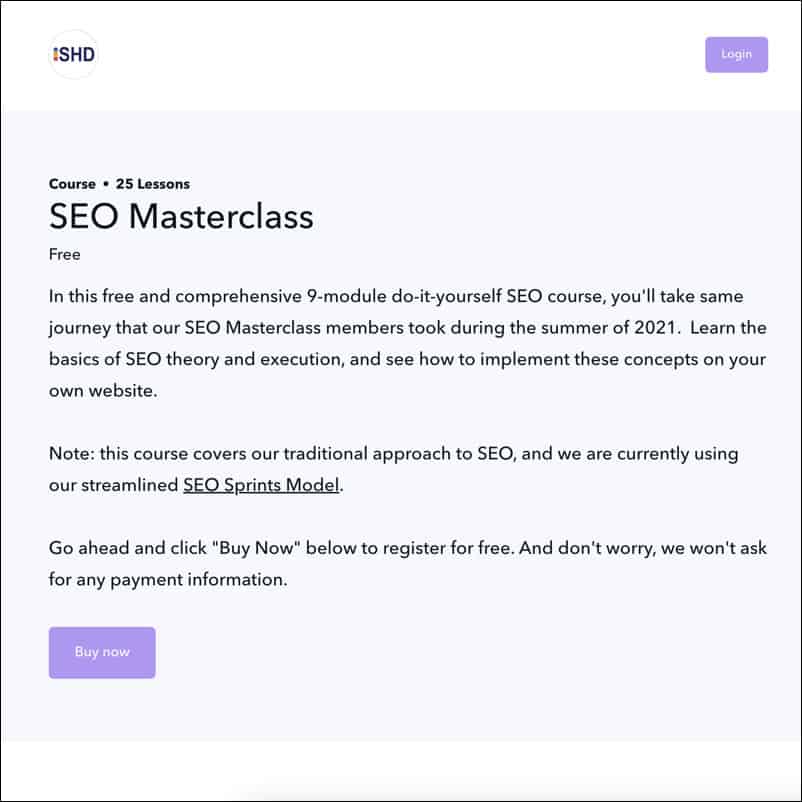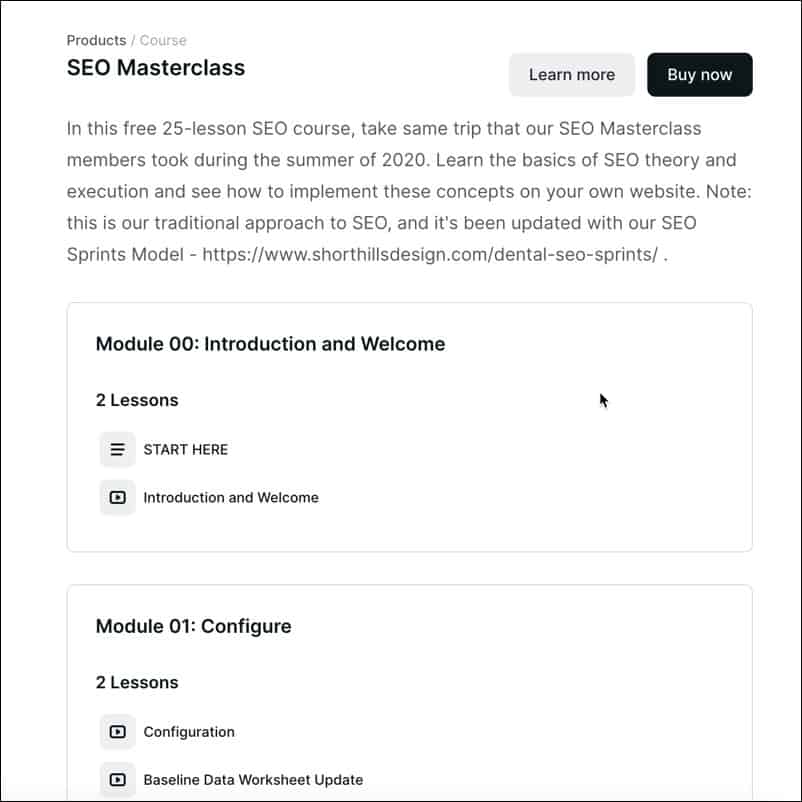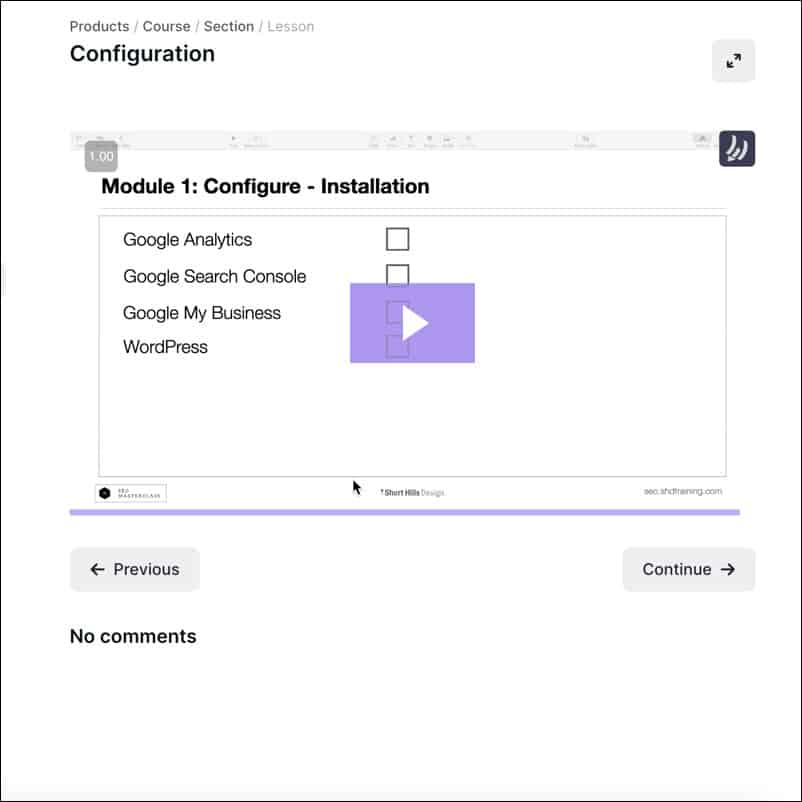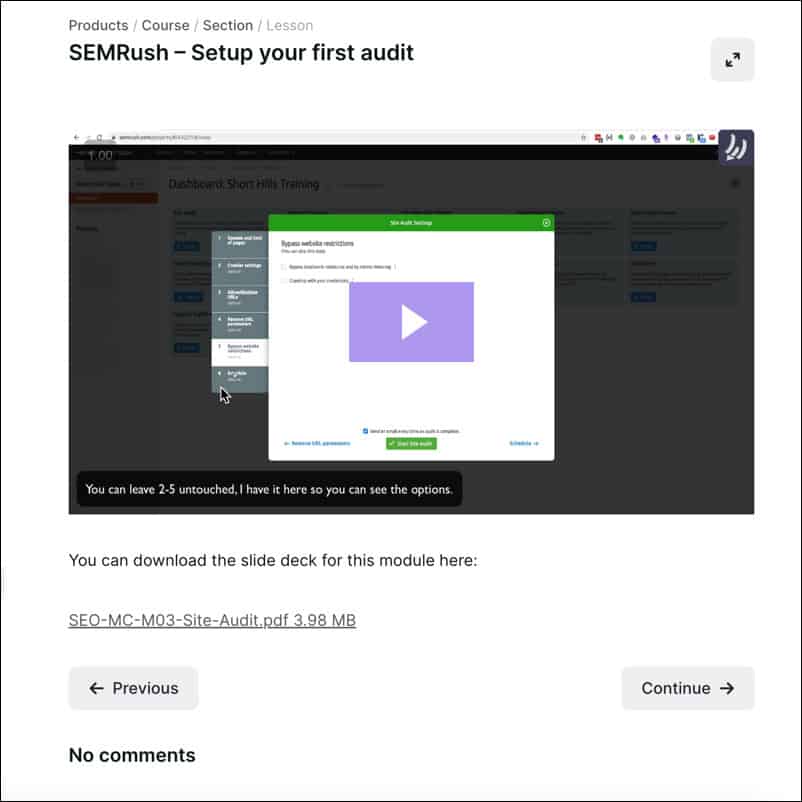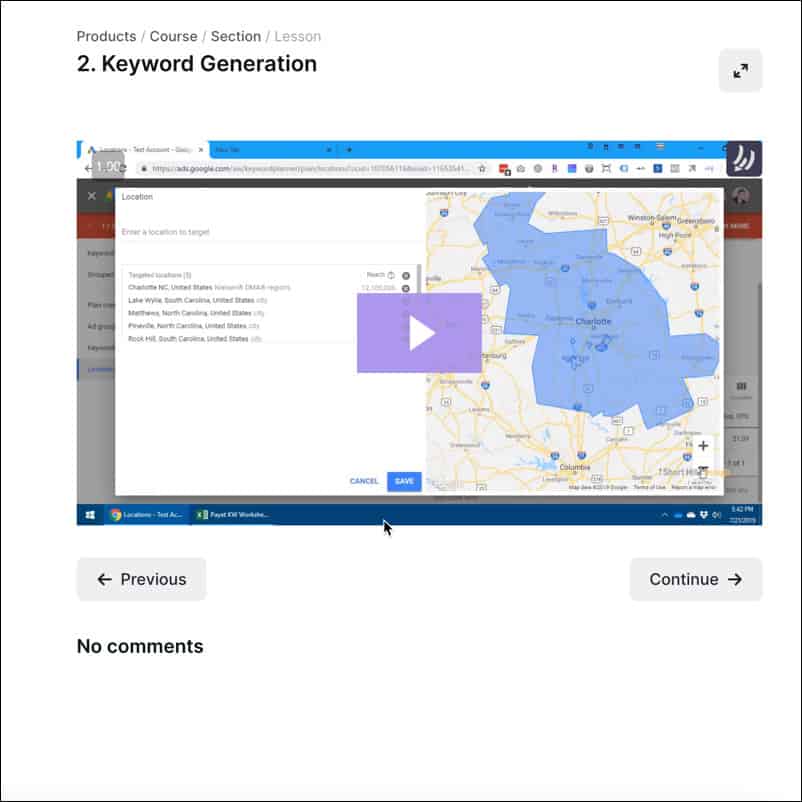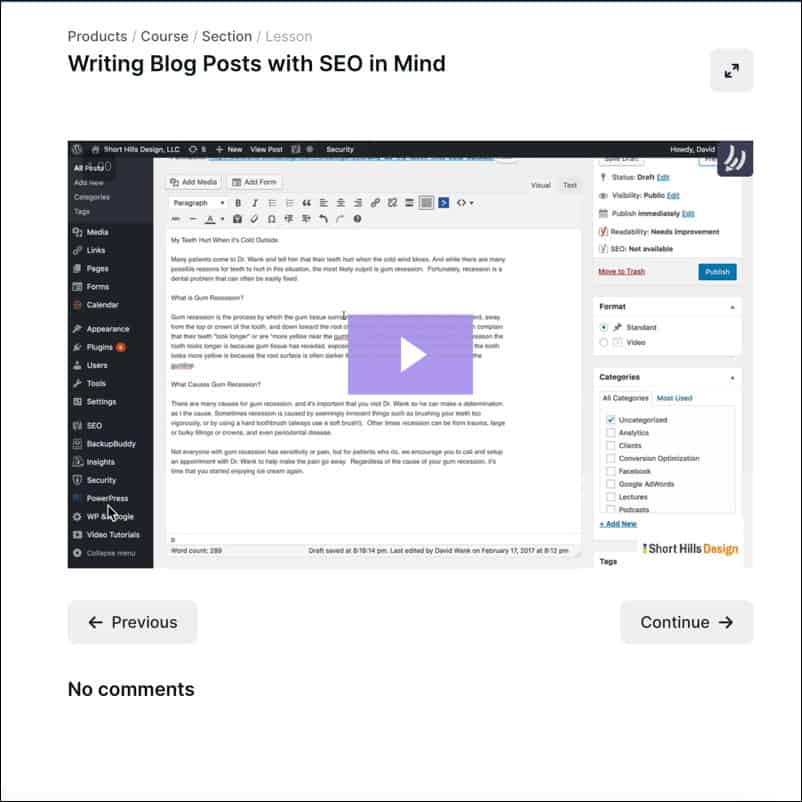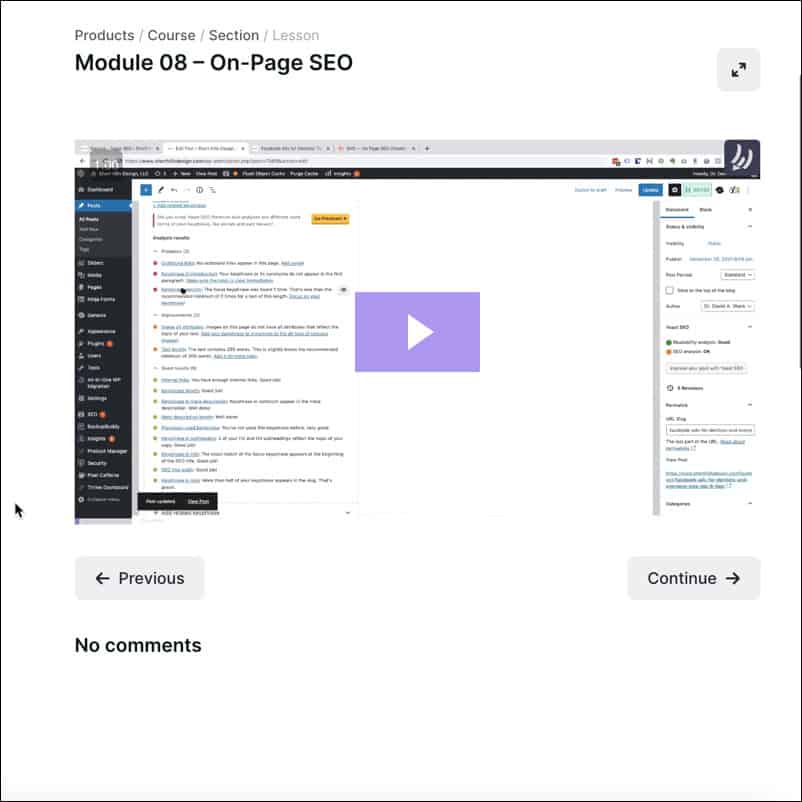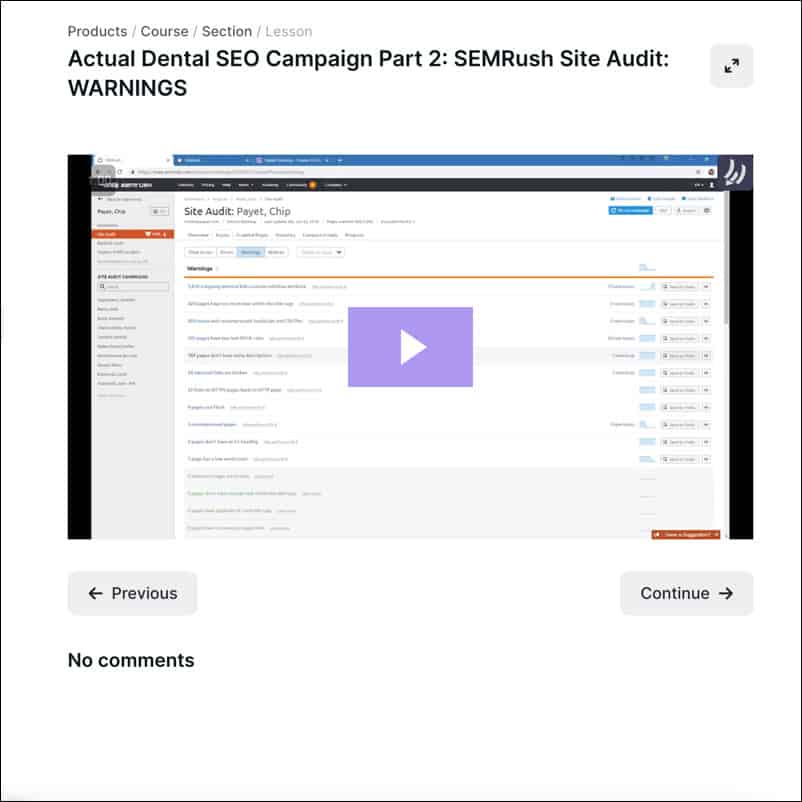 Top 10 Reasons to Take our Free SEO Course and Learn How to Run Your Own SEO Campaign:
You are a small business or you are just starting out and you are at the point where you currently have more time available than funds. We've all been there, and if this is you, this free SEO course will be perfect.
You work for someone else and you'd like to learn the basics of SEO to help provide value for your employer.
You work for someone else and you'd like to learn about SEO so you can make yourself more marketable to your employer and to future potential employers.
You don't trust anyone else to touch your website, and you would like to be able to do all of the research and implementation on your own.
You don't trust anyone else to touch your website and you'd like someone else to do all of the research while you do the implementation. So in this course you'll learn what you should expect from your SEO company, and what types of on-site SEO implementation you'll need to do.
You don't trust your SEO company, and you want to learn how to do your own keyword research to make sure they are doing their job.
You want to understand the inner workings of SEO before you start offering it to clients. While our course will not specifically teach you how to run an SEO agency, you will learn how to run an SEO campaign and you will get the basic-intermediate building blocks you need to be more confident.
You don't know anything about SEO other than that SEO stands for "Search Engine Optimization" and you want to find out what all the fuss is about.
You want to brush up or learn more about a specific part of SEO such as how to write great content for SEO or what you need to do in order to do keyword research.
You want an SEO course that uses SEMRush in the background, so you can see how we use SEMRush in the real world.