Your Google My Business listing works to help showcase your practice to potential new patients by providing people with key information such as your address, phone number, and hours of operation. We said for years that it's important to make sure that your profile is filled out as completely as possible and that advice still holds true today.
As an example of how keeping your GMB profile listing up to date may benefit your practice in the local map-pack (and organic SEO) results, we've noticed that Google has started to add an "Updated by this business" label to the hours information for many business profiles.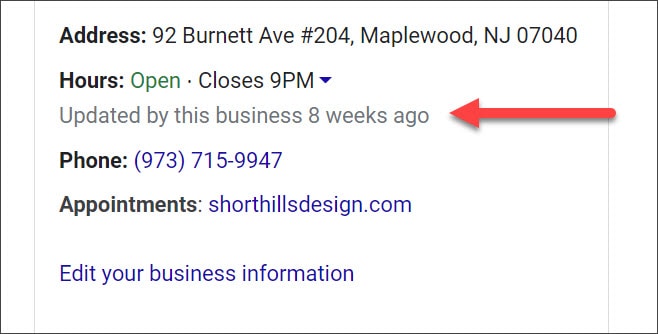 Is this change a major update?
We don't know if this update is a major factor in showing your listing to searchers, or if it's simply something Google is highlighting for a short period of time. Either way, since Google has taken the time to add information about when a businesses' hours were last update, it pays to login to your GMB listing and make sure that your current hours are accurate.
Your Practice's "Opened" date
While you are checking your hours, make sure you fill-in your "Opened on" date at the bottom of your listing. This information is front-facing (meaning it is often shown on the knowledge graph) and is likely designed help potential new patients quickly see how long you have been in practice and to build authority for the practice.
How to check your Google My Business hours and opening date information
In the video below, Dr. Wank quickly walks through where you can find and update your office's hours and your "opened date" information:
Here's a transcript of the video:

Hey everybody, Dr. David Wank here from Short Hills design. And I wanted to take a minute to let you know what we're seeing on Google My Business Listings. So if you were to go google the name of your business, and you see your Google My Business listing here, this is the Knowledge Graph, what we're seeing is that Google is now noting when people updated their business hours. That could because of COVID, or that could be who knows why, but they are doing that. And so we're going to look into a Google My Business Profile in a second to give you an example.

But what Google is also doing is they are adding the when the company was founded date, and that's something you can edit in your Google My Business Profile. So those are things that again, if Google's noting them now, then there's a reason for that. And so we should take advantage of that. So what you can do is you can navigate to your Google My Business Profile, logged into Google My Business and here under info. So again, our hours don't need to be updated. So I don't know if this makes a difference, you can certainly click that button, and then click Apply. I don't know I'm sure Google is smart enough to know that the hours are not weren't changed, but who knows. And if they're not accurate, obviously update them. But also, I would make sure over here at the bottom where it gives you a chance to say when your business was opened, go ahead and add that updated. If you haven't already, I would click this and click Apply to see if it makes a difference. If you don't have it, make sure you update it if you don't know the exact date, but as close enough as possible.

Again, these are things that might help with your Google My Business listing and getting your profile closer to the top of the three pack. And so I wanted to let you know and hopefully you can put those into practice and get your three pack ranking higher.