Lead Generation for Dentists: Effective, Inexpensive, and Works for you in the Background
Of the many marketing approaches that are available for dentists to drive new patients to their practices, one of the overlooked techniques is lead generation.
Every marketing approach we use is geared, of course, to generate new patients. Whether it's done with organic SEO, or PPC (AdWords), the aim is to drive visitors to your website, and hopefully have these visitors (leads) become new patients.
How is lead generation different?
Lead generation is different because with lead generation, not only are we trying to generate the leads (for example, with AdWords), but we are trying to engage the lead and interact with them. With AdWords the lead clicks on your ad, and then is redirected to your site, and you hope that they call or contact you.
Don't sell them, engage them!
With lead generation once the person has visited your site, you aim to engage with them, and not immediately sell to them (as you would with organic SEO or AdWords). There are wide array of engagement techniques you can use, and some of the more common ones include getting their email address via  (a) a free download (such as a "top 10 question and answers about Invisalign" (b) a coupon for a service (such as a whitening special).  The key here is that with lead generation, you are actively trying to acquire the lead's email address (with their consent, of course!) and provide them something valuable in exchange.  
At the end of the day, you are getting email addresses from people who are interested specifically in the service you are offering, and you are connecting directly with them about that specific service -- and once it's set up - it all works automatically!
Moving forward, there are techniques you can use to interact more with these leads, and these techniques are called lead nurturing. Lead nurturing is the next step after lead generation, and I'll be discussing it in a future post.
We need your help testing proof-of-concept, low-cost, new patient generation tools for Invisalign and dental implants.   We do all the setup and the work, and we use your existing website and traffic.   Contact us and get first crack at these cutting-edge services.
The diagram below presents an overview of lead generation.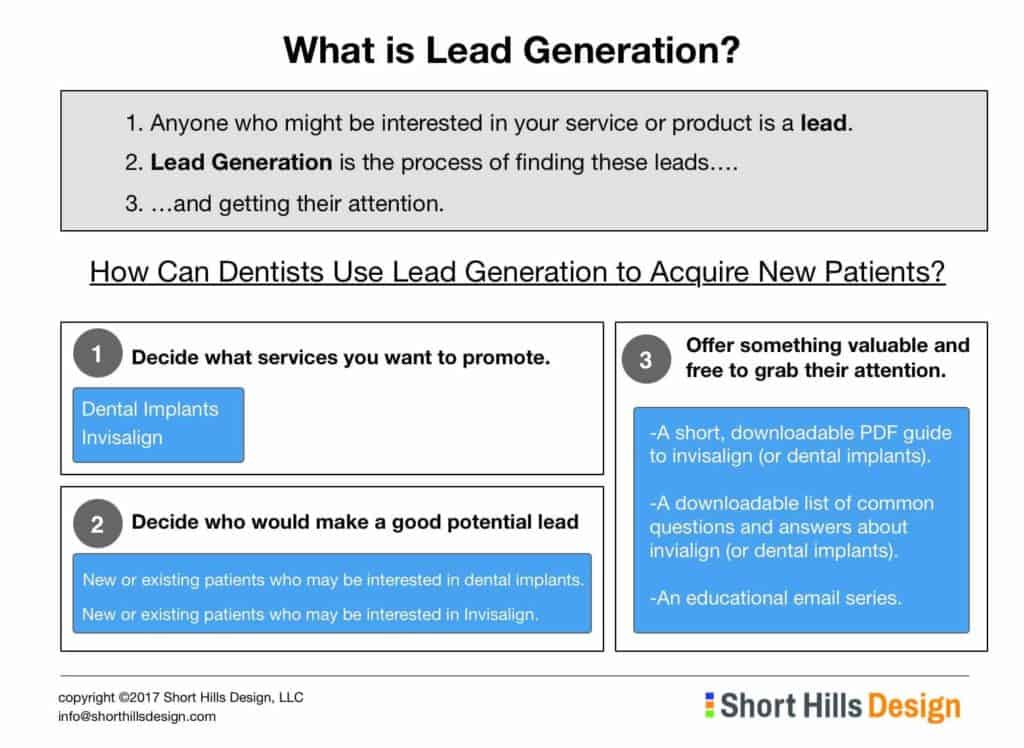 Summary
If you are looking to generate new patients for specific services, lead generation is a great way to start -- whether it's your first time marketing for your practice, or you are adding it as an adjunct to existing marketing campaigns.