Wordpress Updates
Your Wordpress installation requires that you provide an email address in order to send you  infrequent - but important updates.  In general, Wordpress will only send you an email when a new version of WordPress is available, or if Wordpress has automatically completed a minor update (this is the expected behavior).
You can view or change this email address by navigating to your admin panel.
Click: 

Settings -> General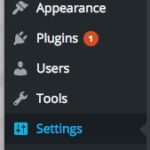 2. Scroll down to the "Email Address" box.



3. Enter your preferred email address, and then scroll to the bottom of the page and press "Save Changes"