Why Facebook Ads?
Facebook ads are a great way to drive traffic to your website and to get new patients. But before you start running Facebook Ads on your own or with a vendor, here are key things you need to know: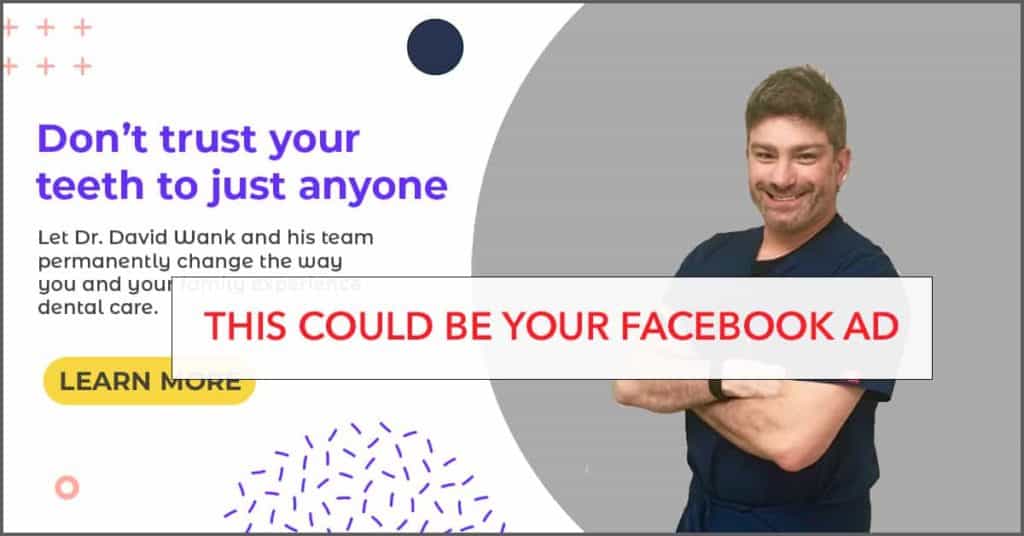 Facebook Ads for Dentists: The List of Tips
Install the Facebook Pixel. The Facebook Pixel is a snippet of code that you or your web developer adds to your website. You must have the Facebook Pixel installed so you can track your ad performance. You can check to see if the pixel is installed in many ways -- one way is to install the Facebook Pixel Helper extension for Chrome.

Plan your goals and campaign objective before you run your ad. Too many people start FB Ads and hope for the best, and it ends up with lots of wasted money. Decide what you want to accomplish with your ad, how you are going to get your message across, and how you are going to track results.

Make sure you have a clear offer. "We're great at what we do" or "The Best Dentist in Town" isn't an offer. An offer looks like, "We help busy parents get their kids comprehensive and affordable dental care without having to take time off from work."

Split-Test Your Ad - test, test, test. Even if an ad creative is working, test your image, your copy, and all aspects of your add to try to improve your ROI. And when you do test, make sure that you test ONE variable at a time.

Figure out a manageable cost per acquisition (CPA). How much is a new patient worth to you -- and can you afford to spend that much to acquire a NP.

Research and test your audience. You need to make sure that the problem you solve is truly a problem for your audience. If you pick the wrong audience, you're not going to have success.

Track your progress. Is your CPA above or below where is needs to be in order for you to be profitable?
Conclusion
Ok so that was 7 tips and not 6, but it's critical to understand the above items before you start to advertise. Pay-per-click advertising can be a great source of new patients, but keep in mind that you can spend money very quickly if you don't understand the big picture.
Upcoming Course: Introduction to Facebook Ads
Dr. Wank will be teaching an Introduction to Facebook Advertising course in February 2021. If you are interested in learning more please let us know below and we'll contact you with more information once the course is ready to roll out.