…And So is the New Gutenberg Editor
WordPress 5.0 is probably the most significant major release of WP in many years because it includes a new editor, Gutenberg. In Gutenberg, the team at WP has made WP friendlier and easier to use.
But Not Everyone is Ready to Switch
Gutenberg is very new, and there are still bugs to be worked out. And because it's so new to many WP users have elected to work still with the classic editor as the WP community adjusts to Gutenberg. Fortunately, if you have upgraded to WP 5.0, and you want to revert to the classic editor, you can use this plugin to make the switch back.
If you see a screen such as this one when you login to WordPress, you can select the classic editor directly (see the video below).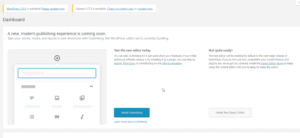 Where Can I Learn How to Use Gutenberg?
Dr. Wank will be doing a webinar in March 2019 about WordPress 5.0 and Gutenberg (February will be about using Bots for Lead Generation). If you are an SHD client, you already have access to up-to-date WP video tutorials - you can learn how to access them here.
Should I Upgrade to WP 5.0?
As of this writing in late December 2018, I would still recommend that you hold off updating to WP 5.0 until most of the bugs have been fixed and any security issues have been discovered and patched. What you should do, however, is upgrade to WP 4.9.9 (note if you are a SHD client we will be upgrading you to 4.9.9 or the most current non-5.0 release).
What if I Upgrade and My Website Breaks?
The WP development team is fantastic, and they work hard to make sure that any WP upgrades or changes don't break any previous code or functionality. However, as 5.0 is less than two weeks old, is virtually impossible for them to test and fix any theme incompatibilities that may arise. The team works closely with major theme vendors in order to make sure upgrades do run as smoothly as possible, but I would still avoid the upgrade until you know that your theme is stable with 5.0.
Lastly, before you do any type of upgrade, make sure that you have a backup of your site, because if you upgrade and your site becomes inaccessible, it's going to be extremely difficult and time-consuming to revert without a pre-backup copy.
Get in Touch
If you have any questions about the article above or about Gutenberg and WP 5.0 in general, drop us a line and we'll help you out!